User experience is by far one of the most important things you should take into account when creating a customer service strategy for your business. After all, it's not just how well you can handle customer questions by phone or email, but also how good the UX of your website is that allows your clients to get the best online experience with your brand.
But how exactly do you know that your UX is good? You can set up your own KPIs to measure performance, but it's also important to look at the general statistics in this field. These reflect the current state of UX and how your own UX compares to it. Hence, here are some of the most powerful UX statistics to impress investors and stakeholders.
Why Do You Need UX Statistics?
Besides using UX statistics to impress investors and stakeholders, you can also use them to help you achieve a number of aims, including:
Better decision-making while planning your UX strategy.
More accurate analysis of the quality of your own UX.
Ability to compare your UX to the UX of your competitors.
By exploring how UX statistics can help you in these three aspects, you can gain a much better understanding of what user experience is actually about. Moreover, you will also see the big picture and realize why your UX is better or worse than that of other brands. It's a way for you to become better at UX in every way possible.
#1 Investing in UX has a ROI of 9,900%. In other words, for every $1 you invest in UX, you will get $100 in return.
The first statistic you should definitely pay attention to is about the ROI you can get by investing in UX. It's quite impressive what a single dollar can do for your user experience which is exactly why more and more businesses are choosing to pay more attention to their UX. This also means that you can manage UX quite well even on a very tight budget.
Ridley Roth, an expert from the custom writing reviews site of the best rated websites, explains, "To some extent, this interest in UX nowadays is directly connected to a much bigger shift in business. Brands are now hyper-focused on their customers more than ever before. That's exactly why UX has become a much bigger priority than it used to be."
#2 There are only 55% of all companies currently performing UX testing.
But even though so many companies are now focusing on their UX more, the percentage of businesses who actually take it seriously is still quite low. It comes as no surprise then that only about a half of all companies perform UX testing of some sort. What's important to keep in mind is that there is a difference between simply trying to improve your UX and actually testing the changes you have made.
That's why the companies that are performing UX testing could arguably be more successful with their user experience than those that don't take the time to test things out. There are certain UX trends and best practices you can follow, but it still comes down to what works for your brand and your specific audience. Figuring this out is impossible without proper UX testing.
#3 88% of online users are less likely to come back to a site where they had a bad user experience.
The companies that don't make their UX a priority likely don't realize just how important its role actually is. But statistics show that an overwhelming majority of online users prefer not to go back to the websites where they had a bad user experience. And it's completely understandable considering the expectations many consumers have nowadays.
For instance, mobile users will definitely expect your site to be mobile-optimized. If they find out that you only have a desktop version, they probably won't want to spend much time browsing your website because it isn't convenient for them. And the same goes for any other aspect of your UX, be it site navigation, internal linking, web design, and so on.
#4 After a negative brand experience, customers are 62% less likely to purchase from the same brand in the future.
Just like most online users don't want to deal with sites that have poor UX, customers are significantly less likely to want to work with you after having a bad experience with your company. Of course, "negative brand experience" could be anything from products of poor quality to lengthy delivery times, but it's safe to assume that UX plays a major role in the overall experience your customers get with your brand.
Maria Martin, an expert from a custom writing service reviews site, puts it this way, "UX is not the same thing as customer experience, but it's definitely a major part of it. A lot of the interactions between brands and customers now happen online which is why it's so important for you to make a good impression and do well even beyond that. How good your site's UX is could determine a customer's entire experience with your brand, so you should definitely keep that in mind when improving your UX."
#5 Mobile users are 5x more likely to leave a task unfinished when the site they are on isn't optimized for mobile.
As mentioned earlier, mobile users will expect your site to be optimized for their devices. Whether it's a smartphone they are using or a different mobile device, they will want to be able to use your website just as easily as they would when accessing it from a desktop device. In fact, statistics show that mobile users are very likely to just abandon your website if it isn't optimized for mobile.
Imagine this situation. You search for a particular product and click on one of the top results. The link directs you to the website of a brand that sells the product you are looking for – and for a great price too! However, once the page loads, you realize that it's a desktop version of the website that appeared on your smartphone. Ordering the product is more difficult than you expected, so halfway while doing so you just decide to find an alternative instead.
#6 90% of users claim that they have stopped using a particular app due to poor performance.
The last statistic worth looking at does not relate to your website's UX but rather to that of your mobile app if you have one. Even some small businesses are now developing their own mobile apps to make it easier for their customers to shop, but what some may forget is that apps also require you to work on their UX.
If your app keeps crashing, has poor navigation, or has any other UX-related issues, you might find that many past customers are abandoning it. It's frustrating for them and it's frustrating for you, but the only solution is to spend more time on developing your app to improve its UX.
Final Thoughts
At the end of the day, the quality of your UX is not always proportional to the amount of money you invest into it. There are many nuances to consider and relevant statistics you can use to guide you when working on your user experience. Use the stats in this article to help you find a common language with your investors and start working on your UX's quality.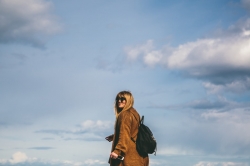 Latest posts by Nancy Howard

Give feedback about this article
Were sorry to hear about that, give us a chance to improve.
Was this article useful?