Empathy is one of the most essential human emotions, yet a lot of people fail to understand what true empathy looks like. Brands want to connect with their customers, but without empathy, you won't be able to understand your audience. Hence, here's how to empathize with your users.
The Basics
Before you try to find a common language or understand what your users are feeling, you should first nail the basics. To be able to work on the details of the user experience you deliver, you should first have a strong foundation to build those details on. Here are the things you should take care of first:
Website Structure – Your website structure will determine the ease of navigation as well as the type of content you add to your site.
Color Scheme – The colors you use for your website should be in line with your brand colors, but make sure that they are visually appealing.
Mobile-Friendliness – Users will be accessing your website from different devices, so you should make it mobile-friendly from the start.
A lot of people consider the visual design of a website as the only aspect that defines UX. However, it's more appropriate to consider the website structure and design as UI or user interface which, in turn, is a part of UX. You should first take care of your UI before you can add more details and elements to it to deliver great user experience.
You Are Not Your User
One thing to always keep in mind is that you are not your user. Even though you have to try to understand what your users feel and experience when using your website, you can't fully get their perspective. That's because you are not your user – but that's okay. You don't have to be your own user to deliver good experience to your audience.
If you recognize that there will always be a divide between you and your users, you will be able to make the best decisions for all parties. Try to communicate with your audience to get their feedback on the choices you make and see whether your predictions and assumptions were correct.
Empathy in UX Writing
So, what about empathy? When people use your website, they expect to get some value from it. To be able to deliver that value through the content on your website, you need to perform qualitative research into your audience. You will need to understand what your users' needs, motivations, priorities, worries, etc. are to deliver them something that will be of value to them specifically.
By learning as much as possible about your audience, you will be able to empathize with them and understand them better. If you can then reflect that in your writing, you will be able to connect with your audience and build a strong and lasting relationship with your users. By utilizing empathy in your writing, you will be guiding your users, communicating with them in their language, and making their experiences valuable.
If you don't know how to write with empathy, it's best to turn to professionals. You can find the best paper writing services and hire experienced writers who know how to utilize empathy effectively. You can also check out different translation services online to find translators for your content. By presenting content in different languages, you can show to your foreign users that you care about them which is another way to empathize with them.
In case you decide to write with empathy on your own even if you have never done so before, you can turn to the best practices used by other UX writers. It can be difficult to fully master writing with empathy because empathy in and of itself is quite vague. That being said, using these techniques and tips will definitely help you improve your writing:
#1 Use Empathy Everywhere
Empathy is necessary not just in your UX writing but everywhere on your website. The way you design your website will impact how empathetic the experience you deliver to your users is. For example, intuitive navigation is meant to make browsing your website easier and make its layout more user-friendly. By making it easier to use your website, you will be showing empathy and the fact that you care about your audience's time and comfort.
#2 Ask for Feedback
At first, you will need to perform UX research to understand your audience better. But even once you have designed your website and filled it with content, your job isn't done yet. You will have to test different aspects of your website and see what works better. Moreover, you will also need to ask for feedback from your users to get the full picture. The better you communicate with your audience, the more understanding and agreement there will be between you and them.
#3 Utilize Different Schemas
Empathy maps, journey maps, and user personas can all be useful for visualizing your audience's experience when using your website. By utilizing such schemas, you can structure your own designs in a smarter way. Moreover, it will allow you to structure your findings about your audience as well and then make decisions on a smaller, more specific level. For example, it will be easier to work with specific points on the journey map.
#4 Be Aware of Your Biases
No matter how much you try to understand your audience and see their perspective, you will still have your own biases. As stated earlier, you are not your user! You could have completely different reactions to certain things. This is precisely why you need to be aware of your biases and take them into account when making predictions or decisions. There is always a chance that you didn't consider something important or made a miscalculation.
#5 Pay Attention to Vocabulary
The way you word your sentences will impact the meaning they carry. But if you want to truly speak your audience's language, you will need to pay close attention to your users' vocabulary. You don't necessarily have to use their slang but being at least aware of it will definitely help a lot. You will be able to make better linguistic choices, find the right tone for your writing, and so much more.
Final Thoughts
All in all, creating a website with good UX might be challenging at first, but once you figure out how to do it, you will be able to empathize with your users. Empathy is critical to delivering good user experience and truly connecting with your audience, so don't overlook it. Use the tips in this article to help you.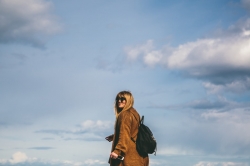 Latest posts by Nancy Howard

Give feedback about this article
Were sorry to hear about that, give us a chance to improve.
Was this article useful?