With the way the shopping space has evolved over the past couple of years, brands and marketers have started to look for various means and ways to improve the experience of their brand customers.
Just when the marketers found themselves in a fix, User-Generated Content came across as a beacon of light, and marketers began employing it in their marketing strategies to benefit from it.
Just like the name suggests, User-Generated Content is the content created by brand users who are their existing customers and have experienced their products and services.
The internet is a giant pool of User-Generated Content. Be it on social media or on the search pages, you will see a lot of content published by the users of a brand. Being the most authentic and trustworthy form of content, User-Generated content has made an irreplaceable impact when it comes to content marketing.
Here's another catch – User-Generated content can help marketers improve the experience of their customers as well!
Want to know more about it? Keep reading till the end as we have highlighted a few ways in which you can include User-Generated Content in your marketing move. Let's get started!
Different Ways To Include User-Generated Content For Impacting Customer Experiences
Display customer reviews across marketing touchpoints
It is quite common for brand customers to leave their reviews on review management platform like Taggbox. Customer reviews come under the category of User-Generated Content and are among the most powerful forms of content present online.
Moreover, reviews help your potential customers understand your products better in the voice of your already existing customers, which would help in making them expect more and enjoy the product, leading to better experiences.
When you display reviews on mediums like digital signage, on print advertisements, etc., you will be able to garner more attention from your potential customers which would push your prospects to become your regular customers. The more conversions, the better the sales and revenue.
Repurpose User- Generated Content by embedding it on your website
The first interaction point between a brand and its potential customers is the website. Your business website pretty much is a reflection of your brand and the things you believe in. It is certain that if a potential customer wants to learn more about your products and services, then they would be motivated to visit your website to check out the specifications of your products including their pricing, material, and other details.
By embedding User-Generated Content into your website, you will be able to generate trust amongst your first-time visitors who may be unsure about your brand. Due to the authentic nature of your customer's content, you may be able to engage and convert your prospects more effectively.
Social media is a medium that can provide you with highly valuable User-Generated content. Every day millions of people post about their experiences with brands while using a brand's hashtag or by mentioning them. They create content in the form of images, videos, stories, tweets, and GIFs to express how satisfied they are with your services and products. When you aggregate the content using a social media aggregation tool and embed it into your website, you are not only building a social proof but also including engaging content that will help you increase your website engagement.
Include User-Generated Content in social media ads and email marketing campaigns
If you are a brand that leverages email marketing and social ads to target your customers and build an online presence, then incorporating User-Generated Content into your promotional content can be your best bet.
User experience content when displayed appropriately at the correct time can help you target your audience even more effectively. If you are running an ad campaign to promote a special deal or discount, you can include a testimonial of your brand user as a snippet to promote your deal.
This way you will be able to tap into impulsive buying and your customers will be intrigued to check out the deal right away. It would then lead to more conversions and an increase in your revenue.
Final Thoughts
A whopping number of more than 80% of prospective customers include User-Generated Content in their purchase decisions and get influenced while they are in their shopping journey.
While content marketing is a taxing and exhausting process, User-Generated Content has made it much easier and simpler for them to widen their brand reach and maximize their profits.
Your customers are your unsaid brand ambassadors who promote your products every day across platforms. If you are a brand and not yet have used it, then we are afraid you are missing out on a lot!
Now that you are aware of how to use it, go on and make an impact on the mind of your customers!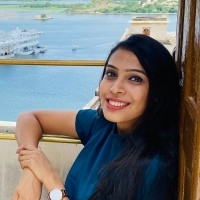 Latest posts by Deepanshi

Give feedback about this article
Were sorry to hear about that, give us a chance to improve.
Was this article useful?