USING LOOP11 TO COMPARE THE USABILITY OF A LIVE WEBSITE VS. A WIREFRAME PROTOTYPE
The National Association of Independent Schools (NAIS) is a membership-based organization representing 1,400 independent schools and associations across the United States.  Its website is a key means of communication and access for its members, so having a website that is easy to use is critical.
THE PROBLEM
NAIS members weren't able to find what they needed on the site.  As a result, phone calls to customer support had increased.
THE BRIEF
NAIS engaged U.S.-based technology customer service company, TerpSys, to help resolve the issues with the website.
There was a perception that certain tasks were completely unworkable on the current NAIS site, but there were no statistics to support this.
TerpSys had already created wireframe prototypes based on a content re-structuring and Information Taxonomy project for NAIS to enable easy and accurate information access.  However, before moving into costly website design and implementation, it needed to evaluate whether the new framework would sufficiently meet NAIS' member needs.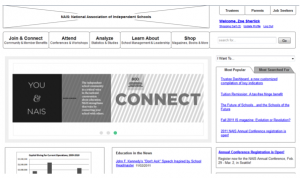 TerpSys used Loop11 to generate hard data on usability that would form the basis of its site recommendations for the NAIS.
Loop11 was used to systematically test usability performance and collect data comparing the existing website with the wireframe prototypes of the newly designed Information Architecture.  Loop11 enabled Terpsys to:
a)     Establish a usability baseline.
b)     Test a wireframe prototype of the new website.
c)      Test a redacted version of the current live site.
d)     Test both the wireframe prototype and the live site to compare "apples with apples".
e)     Evaluate the data.
THE PARTICIPANTS
The NAIS membership department generated a list of existing members, spread across their identified audience categories, who were willing to participate.  Each participant was sent links to both projects.
90 NAIS members participated in the online testing, providing fast and instant statistics through Loop11's ability to record if project tasks were completed successfully and the amount of time each task took.
THE TEST
1. Two separate projects were set up in Loop11 – one each for the prototype wireframes and the existing website.  Each project featured 33 identical tasks and questions.
2. Key participant questions relating to the customer support feedback were identified, including:
– How would find information about NAIS membership?
– How would you find a job at an independent school?
3. Additional questions were asked to gauge the usability and website effectiveness including:
– How often do you visit the NAIS.org website?
– (After each task) How easy or difficult was it to find this information?
Once the tests were launched, Loop11 enabled TerpSys to track the task completion rates and observe the navigation path of participants. TerpSys was also able to instantly access the feedback provided by participants.
EXAMPLE DATA COLLECTED
1. Participant Task:  "How would you find information about NAIS membership?"
Prototype wireframe: 85% task completion rate
Live website: 81% task completion rate
Analysis:  Loop11 recorded an almost identical completion rate between sites, providing evidence that the task is being completed satisfactorily.
2. Participant Task:  "Where can you find information on serving students with learning differences?"
Prototype wireframe: 65% task completion rate
Live website: 14% task completion rate
Analysis:  In this case, Loop11 recorded the wireframes had a substantially higher task completion rate than the live website. Analysis also revealed (in blue) that there were fairly high task abandon rates on both designs, suggesting that the task wasn't straightforward to complete in either design.  As a result of this analysis, TerpSys was able to make recommendations for changes required.
THE RESULTS
Using the statistical data Loop11 generated based on the usability test, TerpSys was able to identify the direct leverage points on the website which would yield the most results.  They were able to make confident, data-based recommendations to NAIS on where to focus their website development efforts to yield the most usable website possible for its members.
LOOKING TO DO SOME EFFECTIVE, EASY, AND AFFORDABLE USABILITY TESTING ON YOUR SITE?
NAIS is one of many Loop11 success stories.  Loop11 can generate quantifiable results on your site without the cost and expense of lab-based testing sessions.  Get started now – your first project is free.

Give feedback about this article
Were sorry to hear about that, give us a chance to improve.
Was this article useful?