This one is a game-changer…
It takes your UX project data, chews it up, and spits out a report with key findings and recommendations.
Hey there, UX designers and researchers! Are you ready to take your projects to the next level? We sure are! We've added two amazing new features to our AI Insights tool that are going to blow your mind!
Recently we announced the launch of AI summaries, based on OpenAIs GPT-3 technology. We have now launched two new AI-related features using more advanced technology – ChatGPT-3.5 Turbo, which we're calling 'AI Insights'. These include:
Task-by-Task Analysis: AI Insights will analyze the results of each task and provide participant summaries and analytics from your report. You'll be able to see how each task was performed and how they compare to others. It's like having a whole team of data analysts at your fingertips!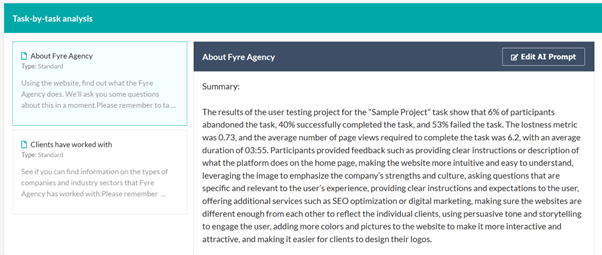 Summary Report: AI Insights will write a summary report of your project, including key findings and design recommendations. You'll be able to see the big picture and make informed decisions about how to improve your product…instantly! That's right, there's no need to spend hours watch videos and reading audio transcriptions!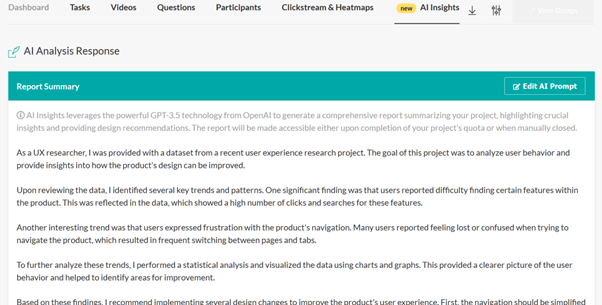 With AI Insights, you'll be able to:
Get Faster Results: AI can analyze a lot of user data quickly, providing results faster than if you did it manually.
Achieve Better Accuracy: AI can identify patterns in user data that might be missed by humans, resulting in more accurate results.
Save Money: AI can automate parts of the testing process, reducing the need for manual work and making user testing much more cost-effective.
Scale Your User Testing Efforts: AI Insights enables scalable user testing with larger groups of people, providing more comprehensive and representative data in a fraction of the time, leading to informed design decisions based on data from a diverse user base.
Efficiently Analyze User Data: AI can analyze a large amount of user data and identify trends, patterns, and information that can help improve the user experience.
AI Prompt Editing: AI Insights allows for the personalization of AI prompts to focus on the specific UX issues of your project.
So, what are you waiting for? It's time to take your UX projects to the next level with AI Insights!

Give feedback about this article
Were sorry to hear about that, give us a chance to improve.
Was this article useful?