2018 UX Industry Study
Loop11's UX Industry Study is back for its second year and we're hoping to both reach more of the user experience community than the first year, and to continue to find interesting insights from UXers world wide.
As usual, once the report is finished we will be sharing it with you all. In addition, if you complete the study you will go into the running to win one of two Rosenfeld Media research packs featuring four must read product research books.
The survey should take around 12 minutes to complete. We really value your input in creating this valuable asset for the UX community.
Start the 2018 UX Industry Survey
All survey results are anonymous and will only be reported in aggregate.
2017 UX Industry Report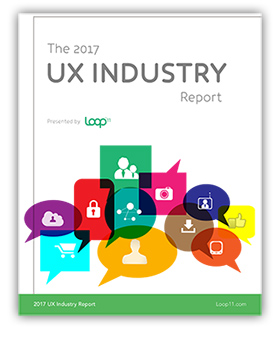 Last year we ambitiously set out to compile the most comprehensive report on the world wide UX industry looking not only at the people but also the companies and trends.
In the end we had respondents from 24 countries and more than a dozen industries.
Starting with the question "What is your definition of UX" helped set the tone for some great responses throughout the study which highlighted everything from most commonly run UX tasks, to position and country based salaries, to favourite UX book and podcasts, to growth trends and support levels with organizations. And that's just a fraction of what we found out.
This is only the starting point, and as our first industry study, we are excited to hear what you think!
Get the report.