What UX games do you play?
During a recent podcast with the VP Head of Design at SAP, Janaki Kumar, she discussed the benefit of using games to build engagement amongst workshop participants.
Following on from this, we want to hear from you. What games have you played, or do you use, and why are they great?
Please provide as much detail as possible. We'll choose our 10 favourite and they will win a copy of Janaki's book, "Gamification at Work: Designing Engaging Business Software" as well as a copy of Jeff Gothelf's new book "Sense & Respond".
We'll publish the best games in a blog article once the competition closes. We'll also take entries via Twitter or Facebook if you'd like to share your stories that way.
Enter below: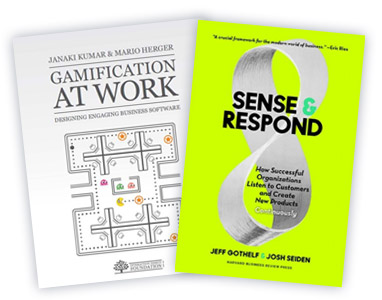 Competition closed. We'll be announcing the winners soon.