Last month we added participant filtering to reporting which specifically allowed you to include (or exclude) participants who had not fully completed your user tests.  Today we've added to the filtering options to allow you to exclude participants who don't meet certain quality thresholds.
You can now create thresholds based on the number of seconds they spend and/or the number of clicks they take to complete individual tasks.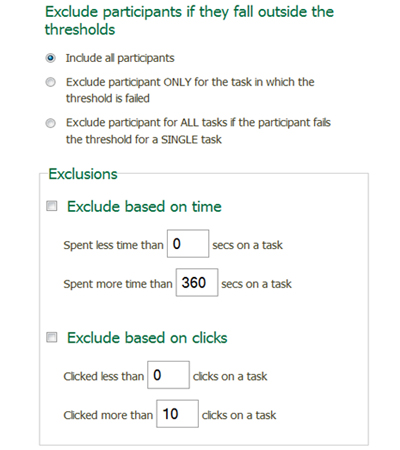 Many of you have noted that when you go through your reports there are often numerous participants who do not even leave the home page when attempting a task, but still claim to have 'completed' it.
Now, it's easy to exclude from your reporting these participants who don't make a proper attempt at completing your user tests.
Similarly, participants who go off to make a cup of tea in the middle of your evaluation can be excluded just as easily so you don't end up with skewed results.
These filtering options will now give your results much greater accuracy and reliability.
Stay tuned…and happy testing!