Loop11 – Now with Videos
Events, News
April 19th, 2011
More than anything else, the one thing our customers ask us the most is "Do we/can we/when will we provide user videos?"
Finally, we can say "Yes, now we do!"
As you know, Loop11 provides in-depth, quantitative usability metrics by tracking every aspect of a user's experience on your website and makes available all the data you need to identify usability issues and make informed decisions to improve the user experience of your website.
The one thing Loop11 hasn't been able to provide you with – until now – is videos of each participant.  So, we teamed up with the guys from OpenHallway who have the only task-based video AND audio recording system available for the UX community.
Their videos allow you to see every mouse movement, click and scroll your users take when undertaking tasks specified by you on your website.  Coupled with the metrics you get from Loop11 it's a powerful combination – that no other single UX tool provides – enabling you to delve deeper into the user experience of your website.
Generating the OpenHallway videos and Loop11 metrics is, in fact, something that has always been possible. We haven't needed to do a technical integration to enable this. Here's how you do it:
1:       The first step is to create your project in Loop11, just as you normally would. Grab your project URL you
are provided upon launch and head over to OpenHallway.
2:       With your OpenHallway account create a new project and then select Create a New Scenario
Instead of entering all the different scenarios you want your participants to perform (because you've just done this in Loop11), simply enter in some basic details like we did below: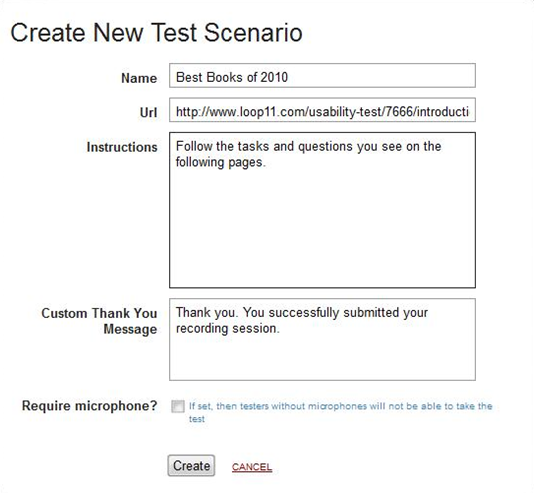 3:      Follow the prompts and you'll be provided with your recording link. Simply distribute this to your
participants.
4:      Watch your videos come in! Here's how they look…
It's a brilliant way to get all these metrics and videos to give you the information you need to pinpoint usability issues and understand your user's behaviour.
Happy Testing!
2 Responses to "Loop11 – Now with Videos"
Ted Boren Says:
April 20th, 2011 at 3:04 pm

Interesting! Some questions:
- Does this work with pop-up invitations or only with link invitations (email or onsite)?
- Does this work with the scripts that run Loop11 locally?

Thanks!

tbiddle Says:
April 21st, 2011 at 4:56 am

Hi Ted,

This won't work with the Loop11 pop-up script, but you could create a link to it as an easy alternative.

And it will work with the script if you run it locally (just not the pop-up).

Regards,
Toby